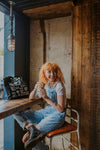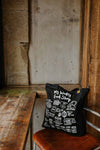 It's that time of the week again. The bread has gone slightly green, the cheddar supply ran out days ago, and the fridge is a sad, barren landscape. It's time for the food shop to end all food shops. Luckily, this roomy tote has stacks of room for all the beloved carbs, tinned rations and impulse chocolate you could ever need. Plus some extra space for at least three types of cheese. Because it is your god-given right as a grown-up to buy as many cheeses as you damn-well please. 
This isn't just your average tote bag. This tote bag has pockets. THAT'S RIGHT. No more hunting through loose change and miscellaneous crumbs to find your phone. No more leaky water bottles bouncing around next to your laptop. With separate pockets for your laptop, charger and phone, Sighh totes are the ultimate answer to handbag chaos. There's even a strap to keep your water bottle or flask locked in place. No more spillages!
All Sighh tote bags are now available in both pink and black, and come complete with extra-thick straps for added shoulder comfort. Finally, the perfect fusion of handbag and tote is here. Fill to your heart's content and carry in true style.
Features: 
Double-sided print

Pockets for your laptop, charger and phone

Strap to keep flasks securely upright

Thick shoulder straps for added comfort

Available in both pink canvas and black

Soft Cotton Canvas 

36cm x 40cm x 10cm [main bag]

Machine wash at 30. Do not tumble dry. Cover when ironing.