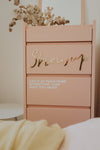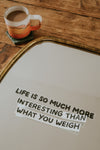 It's all too easy to get wrapped up in what you weigh and start neglecting that big, beautiful brain of yours. Because that's what THEY want. They want to distract you with meaningless numbers so you won't have time to do all those brilliant things you have planned. Well, NO MORE. This friendly mirror decal is your daily reminder to nip that nonsense in the bud. There's things to do. People to see. Cheese to eat. You are more than numbers on a scale. And life is more interesting than what you weigh. 
Perfect for your bedroom mirror, dresser, even your fridge - you can place this decal anywhere you'd like a little dose of loveliness. Designed to be renter-friendly, these decals stick to mirrors perfectly, ready to peel off on moving day – no deposits lost. And with a long-lasting vinyl backing, your words of kindness will stay in place for as long as you want them to. If mirrors aren't your thing, you can fix your decal to any smooth surface – including tiles, glass and walls. (If you're a renter, avoid sticking decals to painted walls, lest you incur the wrath of a grumpy landlord.)
Our standard decals are designed to fit mirrors of all shapes and sizes, with the option to cut up and create your own unique layout. With a choice of black or white vinyl, we've got something to suit every room in the house. Black decals are perfect for achieving a bold look at the top of a mirror in lighter rooms, while our white vinyl offers a nice contrast in darker spaces and in the centre of a mirror.

Features:
Designed to fit all mirror sizes

A choice of black or white vinyl

Chunky, legible font – perfect for mirrors! 

Can be cut up to create your own layout 

Sticks to any smooth surface, including mirrors, tiles, glass and walls

Long-lasting and easy to remove

Includes a mini 'Hi' decal for test applications