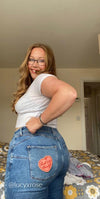 Let's face it, you've got a spectacular ass. One of the greats. Just PEACHY. And this cute patch is here to celebrate that, in all its bootylicious glory. Whether you shaped it in the gym or that's the bum you were born with, this is your friendly reminder to strut about and shake what God gave you. This patch also acts as a very good excuse to take that thirst-trap. It's about time you felt great about yourself.
Perfect to adorn your favourite pair of ass-flattering jeans, a denim jacket or tote! Where ever you desire to pay homage to that booty.
INSTRUCTIONS:
The patch should be covered with a tea towel and ironed for at least 40 seconds, then the fabric turned inside out and ironed again for 40 seconds. Once fully stuck, leave to cool.
80mm x 72mm (perfect for back pockets!)