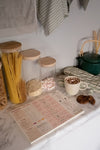 What's on the menu this week? Eliminate staring-into-the-fridge panic with the Weekly Meal Plan – a clever, systematic desk pad to plan your meals, make a shopping list and keep track of all those delicious things hiding in your freezer. This handy planner is designed to help you reduce food waste and stay on budget by planning your week's meals based on what you've already got in, what you'd like to cook, and what you need to pop to the shops for. 

With sections to list the ingredients you currently have, jot down recipe ideas, add things to your shopping list and track your spending, the Weekly Meal Plan has everything you need to up your culinary game. Looking to do some meal prep? Cook in bulk and use your planner to estimate servings and plan how long they can last you. If you've got more than one mouth to feed, use the note section as a key to track who's eating what, or keep it as a to-do list to remind you to defrost some mince for bolognese, or marinade that tofu on Tuesday for a stir fry.
Complete by adding magnetic strips (wait for this option to load), so you can fix it to your fridge or keep it on your desk – the choice is yours. There's no need to transcribe your shopping list – simply tear it off on your way out the door, or leave it attached and take a picture. With enough space on the list for multiple shopping trips, the Weekly Meal Plan is perfect for any household, whether you're a family, a couple or a solo chef.  
Undated: Start your week's plan any day you do the food shop, or spontaneously on the day you decide to get your cooking game back on.
Watch @megeatshappy 's video on how she fills it out here: https://www.youtube.com/watch?v=Icvp6FzKdp8
Features: 
A4

52 sheets – a whole year of meals!

Perforated tear-off shopping list

Add magnets to fix to your fridge